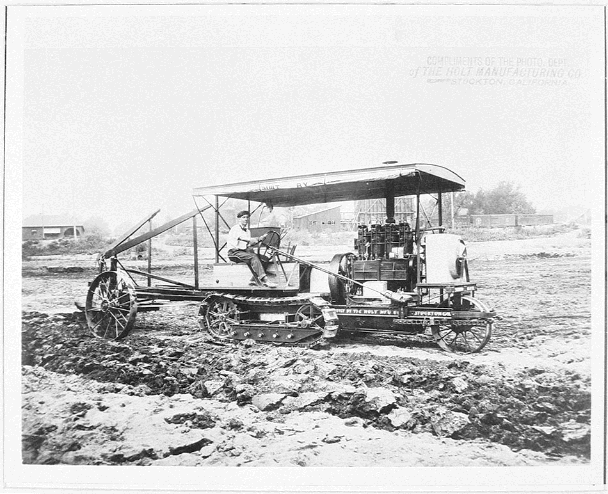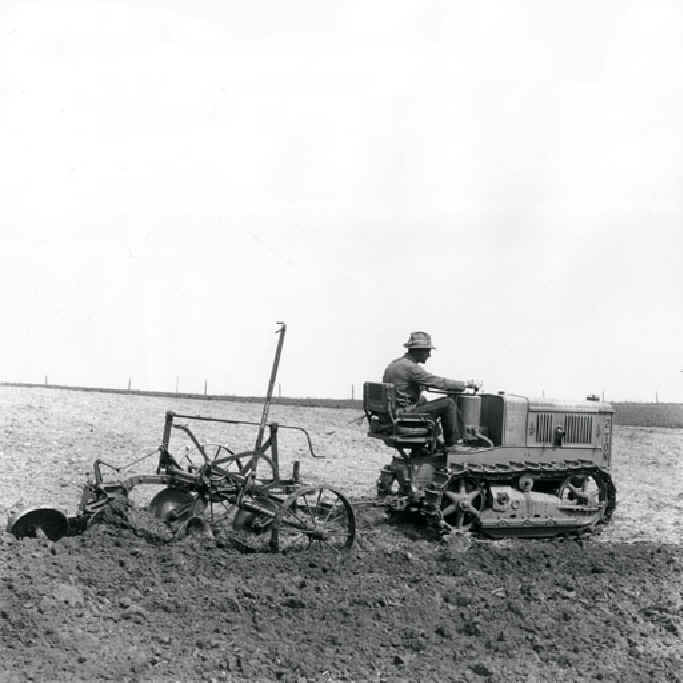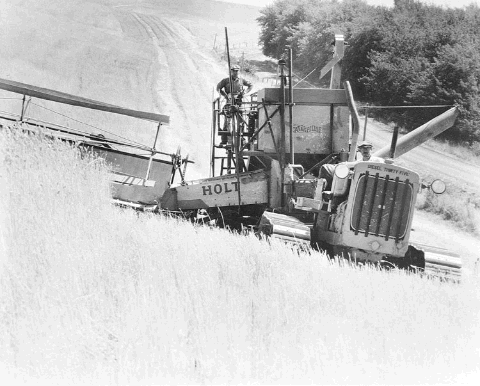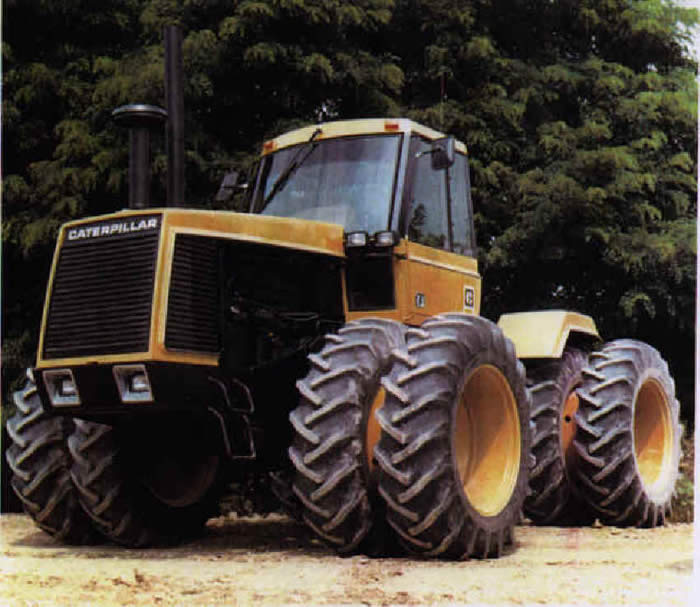 Caterpillar Protype 4wd Tractor
Caterpillar's Experimental Tractors
Caterpillar Inc. built their first Ag tractor in 1906 and continued to be an Ag equipment producer for a long time and produced among others the Diesel 60 tractor. After W.W.II though, Cats Ag line shrank considerably as they concentrated more on construction equipment, and soon Cat was no longer a major player in the ag market. Still some Cat tractors were used in Ag but mainly only out in California and Australia. That has changed recently though with the introduction of Cats Challenger Series of tractors, Cat didn't just jump into production though in fact they had been looking into Ag tractors since the 70's and when the University of Missouri ASM Club recently took a tour of the Dekalb Challenger Production Plant we also got to see some of the tractors that lead to the production of the Challenger tractor.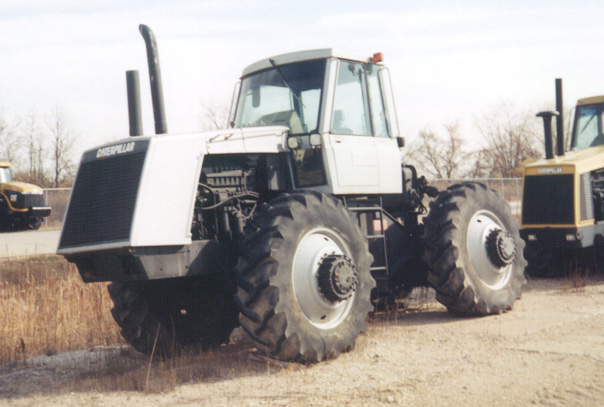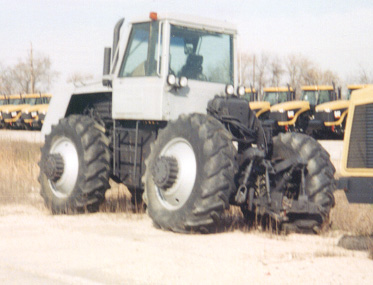 Cat's Rubber Tired 4wd
This prototype was built in the 70's and was Cat's first attempt at making a modern Ag Tractor. It was tested by several farmers and while it was a good solid tractor Cat decided not to produce it because it didn't offer anything special that would bring farmers back to Cat tractors. With Steiger, Versatile, Big Bud, International Harvester, John Deere, Allis-Chalmers, Massey-Ferguson and White already estiblished in the articulated 4wd market Caterpillar decided the way to get back into the Ag business was to do what Cat does best and that's tracks.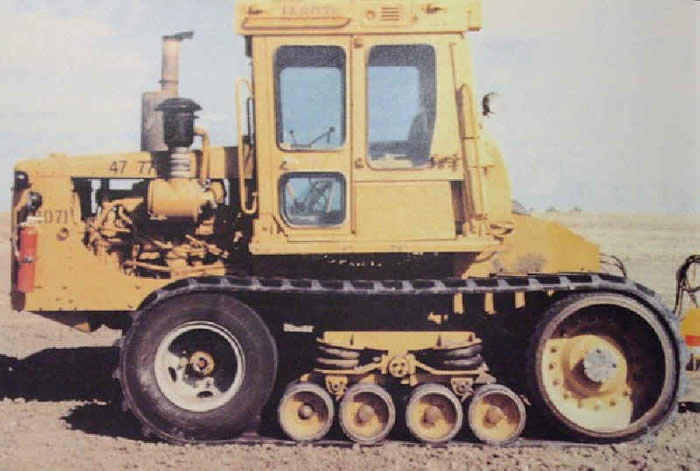 .CAT D6 on Rubber Belts
This prototype was built after the rubber tired effort and it was Cat's first experiment with a rubber tracks. The D6 served as a test platform to see how rubber tracks would handel on the farm and in the field. The new rubber tracks proved to be a good proformer. Farmers could plow their field with improved traction and less compaction. The rubber tracks also allowed easy road travel. Steel tracks on past Cat crawler tractors would tear up the road and had to be trucked from field to field. Once the tracks were established as a viable option to 4wd tires the company began developing a new tractor to drive the tracks.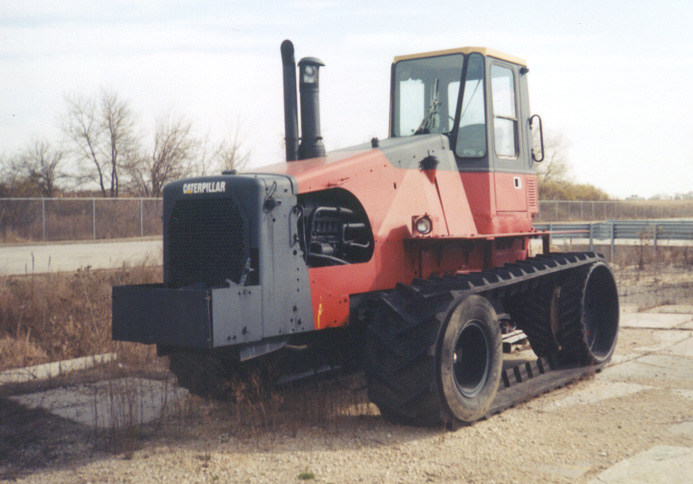 The Cat Bat Track
The Bat Track was the first track prototype was painted like Versatile tractor so that it might disguise the true manufacturer from the prying eyes on the highway while it was being tested. This tractor had a hydraulically adjusted hitch, by that I mean that the draw bar had a cylinder attached to it that allowed movement in a 90 degree arc. Cat learned a lot from this tractor and then moved on to their next project.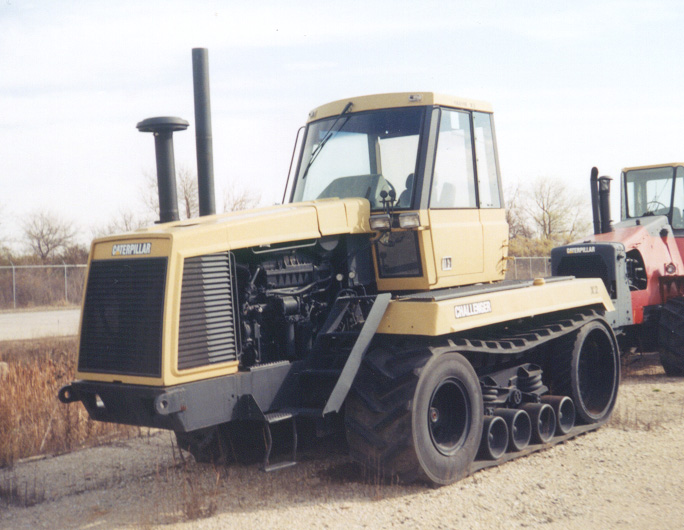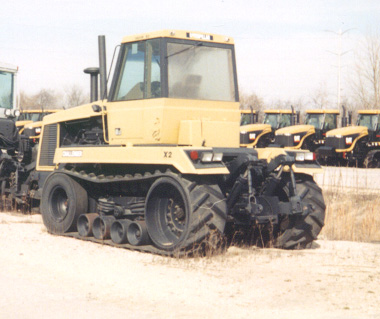 The Cat Challenger X2
The Cat Challenger X2 was the last prototype built before Cat started to produce the Challenger Series. The X2 married the orginal articulated 4wds styling to the developes made with D6 and Bat Tracks rubber track technolgy. It looks very close to production model 65C from the outside but it's cab it pure prototype with unmarked switches everywhere and jagged holes cut in the console for levers to come through. In 1987 Caterpillar changed the tractor industries view of traction. Farmers now had an option beyond tires.
Caterpillars tracked tractors have plowed fields around the world since 1987. In December 2001 as the new generation of MT tractors were launched Caterpillar divested its Ag line to the AGCO Corporation. Today AGCO offers the Challenger line of tracked tractors under the CAT name. The Current line of MT Challenger tractors is lead by the 575 hp MT875 and a new articulated wheeled MT965 Challenger is about to debute from Challenger. The CAT line has come full circle.
Learn about AGCO's 4wds from Minneapolis-Moline to Challenger here on BigTractorPower.com AGCO 4wd Tractor History
Copyright © 2001-2005 BigTractorPower.com. All rights reserved.
BigTractorPower.com, ToyTractorShow.com and ToyTractorTimes.com are trademarks of TTS-Times.