Massey Ferguson 4wd Tractor History
1969-1993
Massey-Ferguson was a key player in the 4wd market for 24 years. It all started in 1969 with the introduction of the 1500 and 1800 Massey Ferguson 4wds. Wagner, Steiger, Versatile, International Harvester, John Deere and Case were the main 4wd brands through the 1960's. At the start of the decade 4wd tractors had limited appeal in select regions of North America. By 1969 4wds were being accepted by farmers looking for more tillage power from coast to coast. Many tractor makers were looking to top of their tractor lines beyond the 120 hp mark. 4wd traction power offered 150 hp + power many farmers were starting to look for. In 1968 MF's top tractor was the 135 hp 2wd 1150. Massey was right up there in the horse power race, yet many customers were looking for more power. The new MF 1500 offered 153 hp and the MF 1800 had 171 hp. MF was not alone with a new 4wd introduction in 1969. Minneapolis-Moline unveiled its new 139 hp or 151 hp with turbocharger A4T-1400 articulated 4wd. Case upgraded its 1964 1200 rigid frame design to the new 144 hp TK 1470. MF key feature against the M-M and Case 4wds was a standard factory iso mounted cab. The MF cab offered a quieter ride and more room to work.

The first MF 4wds gave MF a new horse power range but during the early 1970's the competition was strong. In 1971 John Deere introduced its first in house 4wd since the 8020 was dropped in 1962. Steiger lead the way in 4wd production with a series of 4wds offering 170 hp to nearly 300 hp. International Harvester offered both a rigid frame and articulated 4wd. Minneapolis-Moline introduced a second 4wd called the A4T-1600 and Oliver also released the M-M 4wds as the 2455 and 2655. Massey did not want to fall behind competition and its engineers upgrade to the 1000 series to the 1005 models. The Masse-Ferguson 1505 and 1805 offered more horse power, adjustable tread widths and an optional rear pto.

The 70's were the golden era of 4wd development. Many brands entered the market to fill out their tractor lines. Allis-Chalmers, Ford and International Harvester outsourced to Steiger to offer articulated high horse power models. Other tractors like Case, John Deere and White modernized their designs for extra power and operator comfort. Big Bud, Steiger and Versatile took the horse power race to a whole new level with 760 hp, 650 hp and 600 hp prototype models, respectively. Massey-Ferguson knew it had to match its competitors or it would be an also ran. MF set its sites on the general 4wd market in the 225 hp to 400 hp market.

In 1978 the Massey-Ferguson Brantford, Ontario plant began producing the 4000 series 4wds. These new 4000's were bigger than anything Massey-Ferguson had offered before. The smallest model rated a 225 hp and the largest 375 hp. MF spent seven years researching and designing the 4000 series. The models included the 4800, 4840, 4880 and 4900. Massey-Ferguson was quick to point out the 4000's were not a retread from the early 70's like many of their competitors. The 4000's are the best known MF 4wds and were a real match to any 4wd of the day. In fact many 4000 are still working land today after more than 20 years in the field.

Massey-Ferguson made a big marketing push on 4000's. There theme was "Professional Tough". In fact MF had its own Country Western theme song. Just think about listening to this song on you 8-track back in 1978:

"Its big acreage that takes big power. Tractors that can work like a mule from sun up to sun down and then some. Machines that work even tougher than what you ask them to. Working Land is what you do, and you know the job is a big one. Working land and helping grow food for everyone. Your the best at what you do and Massey is right there with you. Working land together, will get the big job done. Working land is our business too. We've got the know how. Working side by side with you. Massey built is a name you trust. When you have a job to do, will supply the power. Massey-Ferguson professional tough. The tools of the professionals are Massey farm machines....."

The 4000's were built to stack up against the big names in big fields and the toughest conditions. The 4000's had a rugged articulating frame that could turn as short as 17ft. MF offered a fully independent 1000 rpm pto on all the 4000's to help match any farm chore a 4000 might be needed for. The cab's were the biggest in the industry. The MF command module had 7,000 square inches of tinted glass, an 8 way adjustable seat, two tool boxes, rear ice box, rear windshield wiper, dust penetrating amber lights, standard heating and air-conditioning, am-fm radio and 8 track player. The duals were having duty axle mounted and not clamp on. Massey-Ferguson was so sure that its 4wds were the strongest in the class they would have field demonstrations head to head with the Steiger Cougar III, John Deere 8640, Case 4890 and Versatile 875. Massey-Ferguson's general advantages were its broad horse power range that did not over lap, big clutter free cab, 3 speed shift on the go transmission, and a standard 3pt and available factory installed 1,000 rpm pto. Massey-Ferguson wanted to show it had the 4wd for every size operation. Massey's 4000 series were modern and had so many standard components that the design lasted in the 4wd market through the 2001 AGCO-Star.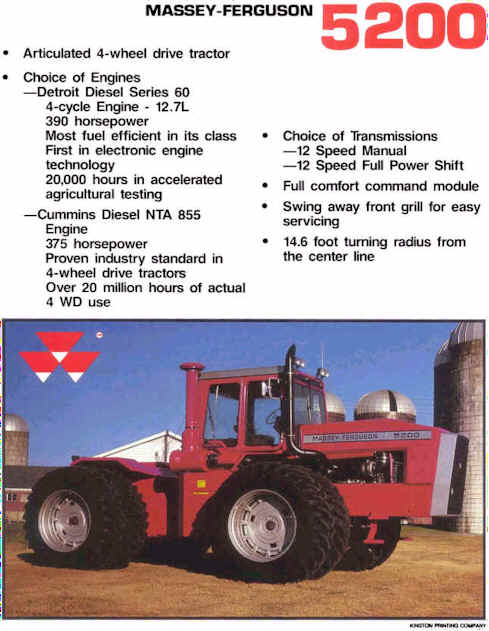 .

Massey-Ferguson upgraded its 4wd design in the late 1980's. The 1980'scaused many of the tractor makers to hit a brick wall. The strong sales and wide model ranges of the 1970's came to a screeching halt as the bottom fell out of the Ag market. In 1982 Ford dropped out of the 4wd market and International Harvester sold off its interest in Steiger, thus ending its articulated 4wd line. Then, in 1985 International sold its entire Ag line to Tenneco. Tenneco the owner of J.I Case merged the IH Ag Group to form Case International. Also in 1985 Allis-Chalmers sold its Ag line to Deutz-Fhar. The new Deutz-Allis company dropped the 4wd line. In 1986 Case-International took over Steiger. In 1987 Ford-New Holland aquired Versatile. White dropped its 4wd all together in 1988. Massey-Ferguson was on shaky ground just like its competition. In 1988 the four 4000 series MF 4wds were replaced by a single beefed up model. The Massey-Ferguson 5200 was retooled to offer two engine options ranging from 375 hp to 390 hp. The 5200 offered a new side muffler for better visibility and an outside rear mounted air cleaner for better engine efficiency. The 4wd market not only consolidated its brands but the big horse power models of the 1970's were reeled in from the 400-500 hp class to 350+ hp. Massey-Ferguson decided to build one large horse power model to compete against Case International's, Ford-New Holland's and John Deere top models. The MF 5200 was a strong machine but the company behind it was running out of operating capital. In 1989 Massey-Ferguson sold 5200 to McConnell LTD. McConnell Tractors, LTD was formed and it sold the Massey-Ferguson 5200 and its own yellow McConnell-Marc brand through 1993. From 1993-1994 only the yellow McConnell 1000 and 900 models were available. The McConnell 4wds were always a show stopper because they came complete with an in cab phone. This feature in an era before cell phones, many farmers lined up at farm shows to make a phone call from the cab of a tractor. The 1993 McConnell-Marc 1000 was the industries first 425 hp model of the 1990's. In 1996 the other big three would catch up with the 425 hp CaseIH Steiger 9390, John Deere 9400 and New Holland 9880. The good old Massey-Ferguson design was three years ahead of the pack. In 1995 McConnell decided it could not stand alone with two 4wds so the line was sold to AGCO.

AGCO was formed in 1990 by former Allis-Chalmers executives. The executives took over Deutz-Allis and then purchased the White and Hesston brands. In 1993 AGCO acquired the rights to Massey-Ferguson. By 1995 AGCO was in need of a 4wd to fill out its wide tractor line. The McConnell-Marc was a good fit and the former Massey-Ferguson tractor design was moved to the AGCO/White Cold Water, Ohio tractor plant for production. The MF design was tweaked with new options and sheet metal and the silver colored AGCO-Star was released. AGCO-Stars like the MF 5200/McConnell 4wds offered both Detroit-Diesel and Cummins engine options. The Massey-Ferguson name disappeared from the 4wd market in 1993, although AGCO did offer customers wanting a red 4wd AGCO-Stars painted in Massey red.

To learn more about the models offered in Massey-Ferguson's 24 years in the 4wd business read the model history and specifications, in the article segments below.
5200 Massey Ferguson 4wd History

Massey Ferguson's last 4wd was the 5200. Like many of the tractor makers in the 1980 Massey-Ferguson fell on hard times. Massey-Ferguson unlike International Harvester and Allis-Chalmers did not seek a partner but divested its self of several lines. Two major divisions Massey-Ferguson sold included its 4wd and combine units. The combine line was sold to Western of Canada who formed the Massey Ferguson Combine corporation. The 4wd line was sold to the McConnell Corporation and production was moved from the MF Brantford, Ontario plant to McConnell's headquarters in Kinston, North Carolina. The 5200 was sold under the Massey brand and then from 1993-1994 as the McConnell-Marc 900 and 1000. AGCO acquired the McConnell 4wd and redesigned it to become the AGCO-Star 84360 and 8425 in 1995. The 5200 Massey-Ferguson 4wd would have competed against the articulated Case International articulated 9280, articulated Ford-Versatile 936 and John Deere's articulated 8960.

5200 Massey Ferguson 4wd Specifications

Years of Production: 1989-1993

Models: 5200

Specifications:

5200: 390 hp, 774 cu-in Detroit Diesel or 375 hp 855 cu-in Cummins , no pto, shift on the go, 12/4 speeds

4000 Series Massey Ferguson 4wd History

Massey Ferguson became a true contender in the 4wd market with the 4000 series. In 1978 Massey Ferguson launched a new 4wd line from the ground up to compete against the big horse power models from Steiger, Versatile, John Deere and Case. The new models offered the largest cabs in the industry and a new power shift transmission. Massey Ferguson released several VHS video tapes to dealers comparing the MF's against the over big name 4wds. Massey Ferguson even had a country western song to market the big 4wds.The 4000 series Massey-Ferguson 4wds would have competed against the articulated Allis-Chalmers articulated, 4W-205,rigid frame Case 2870, 4890, 4894, Case International rigid frame 4894 and articulated 9150, 9170, 9180, Fords articulated FW series, articulated International Harvester 4586, 4786, 7588, 7788 and super 7488, John Deere's articulated 8460, 8560, 8850, Steiger's articulated Bearcat, Cougar, Panther Series III, IV and 1000 4wds, Versatile's articulated 875, 895, 935, 876, 896, 936 and White's articulated 4-225 and 4-270.

4000 Series Massey Ferguson 4wd Specifications

Years of Production: 1978-1988

Models: 4800, 4840, 4880 and 4900

Specifications:

4800: 225 hp, 903 cu-in Cummins V-8, 1,000 rpm pto, shift on the go, 18/3 speeds

4840: 265 hp 903 cu-in Cummins V-8, 1,000 rpm pto, shift on the go, 18/3speeds

4880: 320 hp 903 cu-in Cummins V-8, 1,000 rpm pto, shift on the go, 18/3 speeds

4900: 375 hp 903 cu-in Cummins V-8, 1,000 rpm pto, shift on the go, 18/3 speeds

1005 Series Massey Ferguson 4wd History

Massey Ferguson upgraded its 4wd line in 1973 with a decal change to models 1505 and 1805. MF upgraded the 1005 series beyond the decals. Improvements included an optional 1,000 rpm pto, optional 3pt hitch, two standard 25 gpm hydraulic pumps and longer axles for on-axle duals. During the mid-70's Massey-Ferguson developed an implement for its 4wds including 3pt chisel plows, larger plows up to 8 bottoms, tandem disks and field cultivators up to 33 1/2 feet. The 1005 series Massey-Ferguson 4wds would have competed against the articulated Allis-Chalmers 440 and 7580,rigid frame Case 2470, International Harvester rigid frame 4166 and 4186, articulated International Harvester 4366 and 4386, John Deere's articulated 8430, Steiger's articulated Wildcat, Bearcat Series I and II 4wds, Versatile's articulated 500 and 700 and White's articulated 4-150 and 4-175.


1005 Series Massey Ferguson 4wd Specifications

Years of Production: 1973-1978

Models: 1805 and 1505

Specifications:

1800: 192 hp, 636 cu-in V-8 Caterpillar, 1,000 rpm pto, manual transmission 12/4 speeds

1500: 174 hp, 636 cu-in V-8 Caterpillar 1,000 rpm pto, manual transmission 12/4 speeds

1000 Series Massey Ferguson 4wd History

Massey Ferguson entered the 4wd market in 1969 with models 1500 and 1800. These tractors were articulated and featured Caterpillar V-8 power plants. The 1500 offered 153 hp and the 1800 rated at 171 hp. Both tractors were strong enough tillage and small enough for row crop farms. The 1000 series Massey-Ferguson 4wds would have competed against the rigid frame Case TK 1470 and 2470, International Harvester rigid frame 4156 and 4166, John Deere's articulated 7020 and 7520, Minneapolis-Moline articulated A4T-1400 and A4T-1600, Oliver's articulated 2455 and 2655, Steiger's articulated Wildcat, Super Wildcat, Bearcat Series I 4wds and Versatile's 145.


1000 Series Massey Ferguson 4wd Specifications

Years of Production: 1969-1973

Models: 1800 and 1500

Specifications:

1800: 171 hp, 573 cu-in V-8 Caterpillar, no pto, manual transmission 12/4 speeds

1500: 153 hp, 636 cu-in V-8 Caterpillar no pto, manual transmission 12/4 speeds

Variations: Industrial models in yellow

Early History:

The Massey-Harris GP 4wd was offered from 1930-1938. The GP was originally produced by the Wallis the tractor line owned by the Case Plow Company (The Case Plow Company was a separate company from J.I Case). In 1928 Massey-Harris acquired the Wallis tractor line to ad tractors to its successful implement business. In 1930 Massey-Harris introduced the GP 4wd to enter the row crop market. The GP was powered by a 226 cubic-inch 4 cylinder Hercules engine. With tread widths of 48, 56, 60, 66 and 76 inches the GP was a true row cropper. The GP 4wd is viewed as the first true 4wd tractor. It does not articulate or have 4 way steering like the modern 4wds. The GP is steered with right and left side breaking, which allows for short turns.
Photographs from Massey-Ferguson Sales Literature for Identification Purposes, from David Tallon and John Schomberg. These pictures may not be copied from Big Tractor Power.com
Back to BigTractorPower.com's AGCO 4wd History