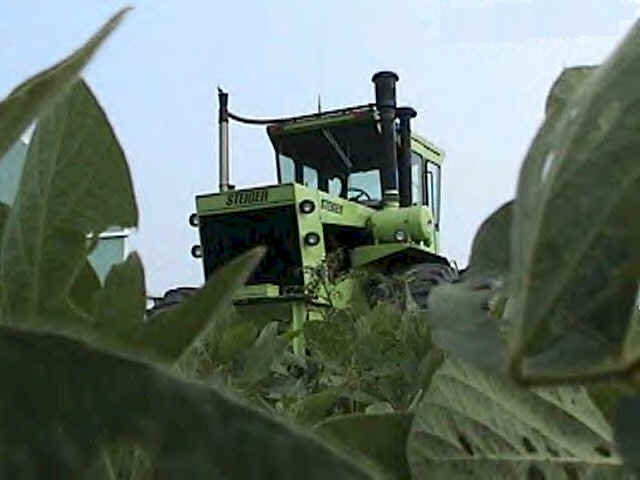 BigTractorPower.com
The On-Line 4wd Tractor Information Source
BigTractorPower.com is your website for 4wd tractors. The website serves to share 4wd history of every brand, make and model. BigTractorPower.com is always expanding its information base of 4wd tractor history, specifications, pictures and field action shots
People enjoy learning about 4wd tractors for a number of reasons. Because they farm with these big tractors, they enjoy seeing them working the country side, collecting pictures and literature. Modern, agricultural four wheel drive tractors have a fifty year history. There are the big names like AGCO, Buhler-Versatile, Case-New Holland and John Deere. Four- Wheel drive enthusiasts are always searching for the classics like Wagner, Steiger, Versatile, Big Bud, International Harvester, J.I. Case, Minneapolis-Moline, Oliver, White, Allis-Chalmers, Massey-Ferguson, Ford, Rite, Rome and many more. There are brands around the world like Waltana, Acre-Master, Agrico, RABA and ACO. Big Tractor Power.com will bring you the latest news on the modern power houses and information on the classics history.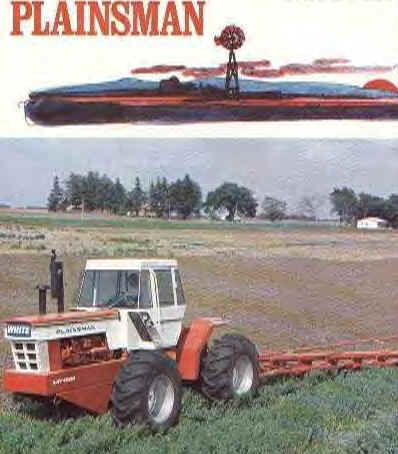 Ever since farming became mechanized through the internal combustion engine, farmers and engineers have always tried to get more power out their tractor. Increasing engine size gave more power, increasing wheel and tire size added traction and reduced soil compaction. This constant search for power lead to larger and larger tractors, both in engine and physical size.

Their came a point when engine size increased beyond the point where a normal 2wd tractor could no longer utilize the extra power. A new type of tractor was developed so that a rear drive axle was fitted on a steerable front end to gain extra traction through front wheel assist on a 2wd tractor. Then all-wheel drive with four equal tires followed and articulated and ridged frame 4wd tractors followed bring prairie busting power to the land.

The large 4wd tractors attract attention with farmers and collectors. The sheer size of these high horse power tractors is overwhelming. With early models offering 130 hp and monster machines offering up to 900 hp these tractors achieve incredible work rates along with mighty implements that they pull behind them.

Four-wheel drive articulated and rigid tractors, despite their huge size and weight well over 12 tons, often put down less pressure on the ground than many small tractors. Five psi is often the norm for these powerful workhorses when fitted with equal size wheels and either on dual or triple wheels, in contrast with smaller 2wd tractors with a narrower wheel setting and front end weights can exert a ground pressure in the region of 17psi.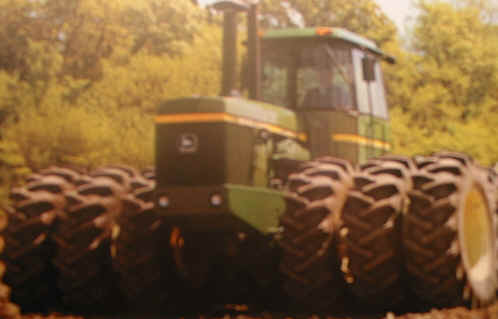 .

The four wheel drive tractor fitted with duals or triples and modern rubber belted tractors offer greater traction and greater pulling power allowing for the use of a larger combination of implements that can be operated a greater width and sppeds. The result is faster cultivation and quicker planting times, with the seeds being planted in the best condtions in the narrow planting window. Four wheel drives save time by reducing the number passes made in a field with large equipment. Reduced passes also lessen soil compaction wich means increased yields and profits.

One of the greatest benefits of 4wd power is reduced labor and capital costs on the farm. One 4wd tractor can replace the work done by two or three 2wd tractors. In the early days of 4wds when 2wd tractors ranged from 50-100 hp a 150 -200 hp 4wd farmers started to realize big was good. One 4wd could pull a 10 bottom plow while a 100 hp 2wd could run 5 bottoms. A farmer with two 100 hp tractors plowing might cover 40 acres in a day where one 4wd might cover 80 acres. This ment less equipment, less labor costs and more ground ready for planting. could out work Massey-Ferguson upgraded its 4wd design in the late 1980's. The 1980'scaused many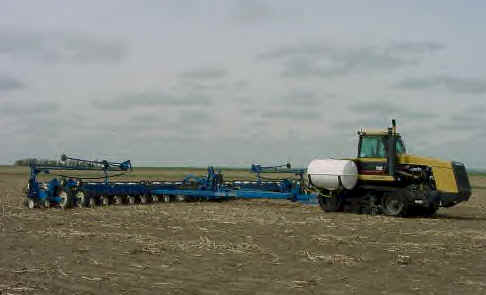 Today the race continues for more power on the farm. As farmers cover more acres and raise more crops than ever the 4wd tractor is a key tool. Four wheel drives can till the land and plant crops in with tools up to 60 ft. What used to take a week to accomplished in a field can be accomplished in a day. Modern 4wds on tires and tracks range from 250 hp-500 hp. Where does the power race end? As long as weather threatens planting and harvest their will always will be a time and power shortage on the farm. Four wheel drive tractors help narrow that window.

BigTractorPower.com honoors the history and the modern advance of 4wd tractors. This website offers history on the developed of 4wd power from the 1920's and 30's, showing pictures of the earliest traction machines from Massey-Harris and International Harvest. We look back at the legeneds like Wagner and Steiger in the 1950's. You can trace AGCO's, CNH's and John Deere's full line of 4wds from their earliest 4wd efforts to their modern 500 hp marvels.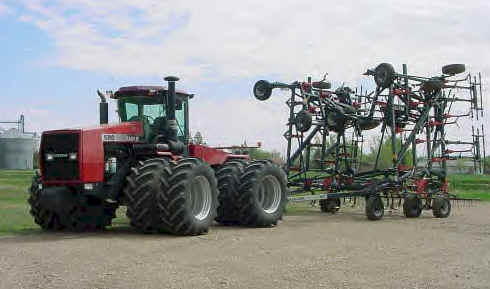 .

Beyond the interesting history of 4wd tractors through the second half of the 20th century and the modern 21st century 4wds, BigTractorPower.com offers specifications and production year facts on all brands of 4wds. There is also information on sales literature memorabilia and pictures of 4wds in he field doing what they do best: plowing, planting and harvesting.